ATN

TTBN-4
Smart HD Thermal Binoculars w/ Laser Rangefinder
AVAILABLE SENSOR: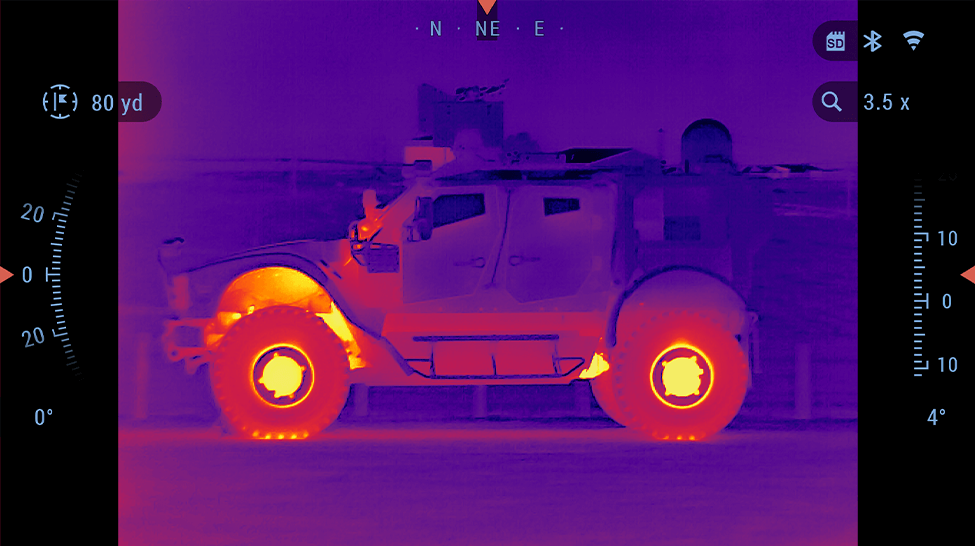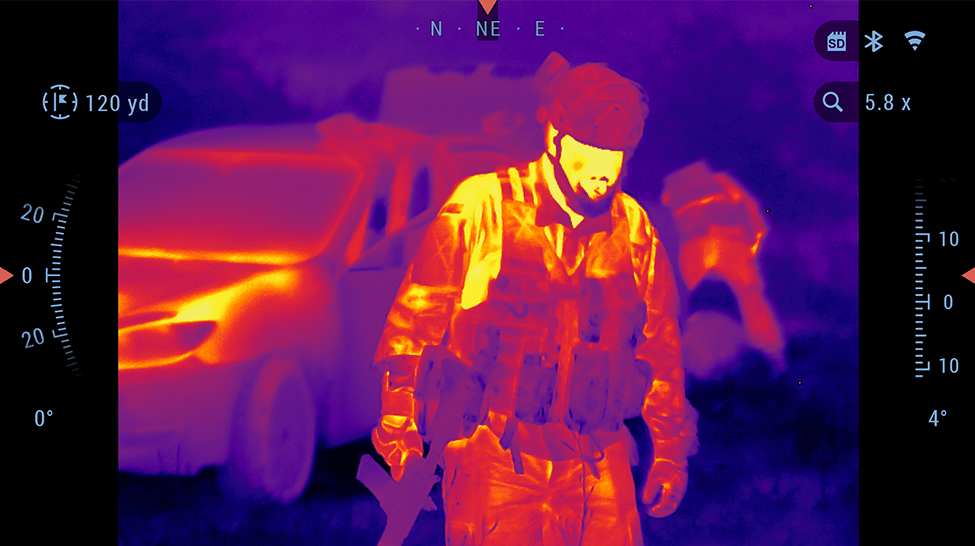 Detection: 1.5 pixels / 0.75m = 2 pixels per meter
Recognition: 6 pixels / 0.75m = 8 pixels per meter
Identification: 12 pixels / 0.75m = 16 pixels per meter
ULTRA SENSITIVE NEXT GEN SENSOR

Black Hot/White Hot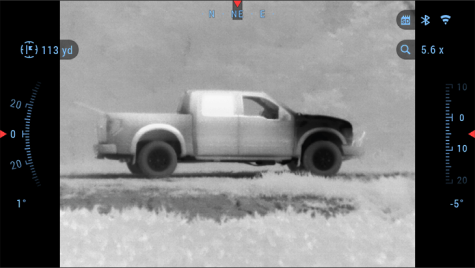 Color Modes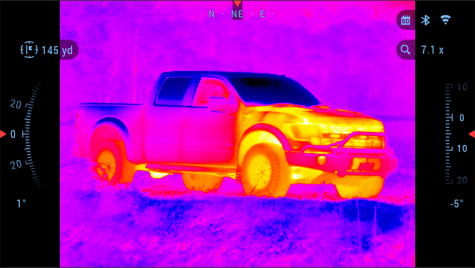 VIDEO RECORD
Record with a press of a button. Video files are stored on an internal micro SD card.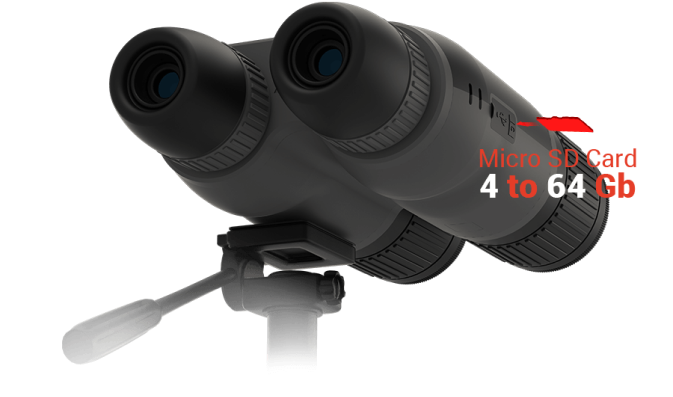 LASER RANGEFINDER 1000 Y/M
DISTANCE TO TARGET DAY OR NIGHT
•
Built-In Laser Rangefinder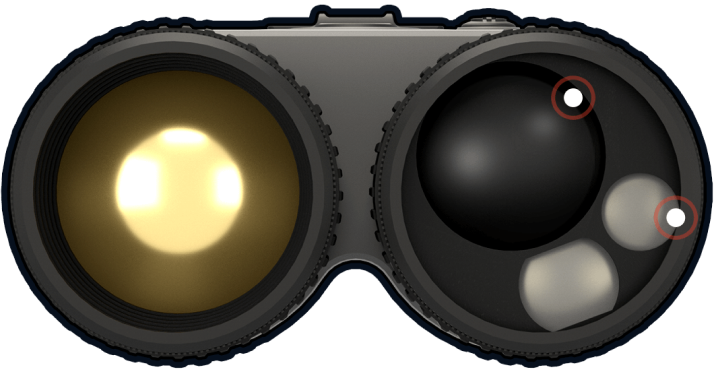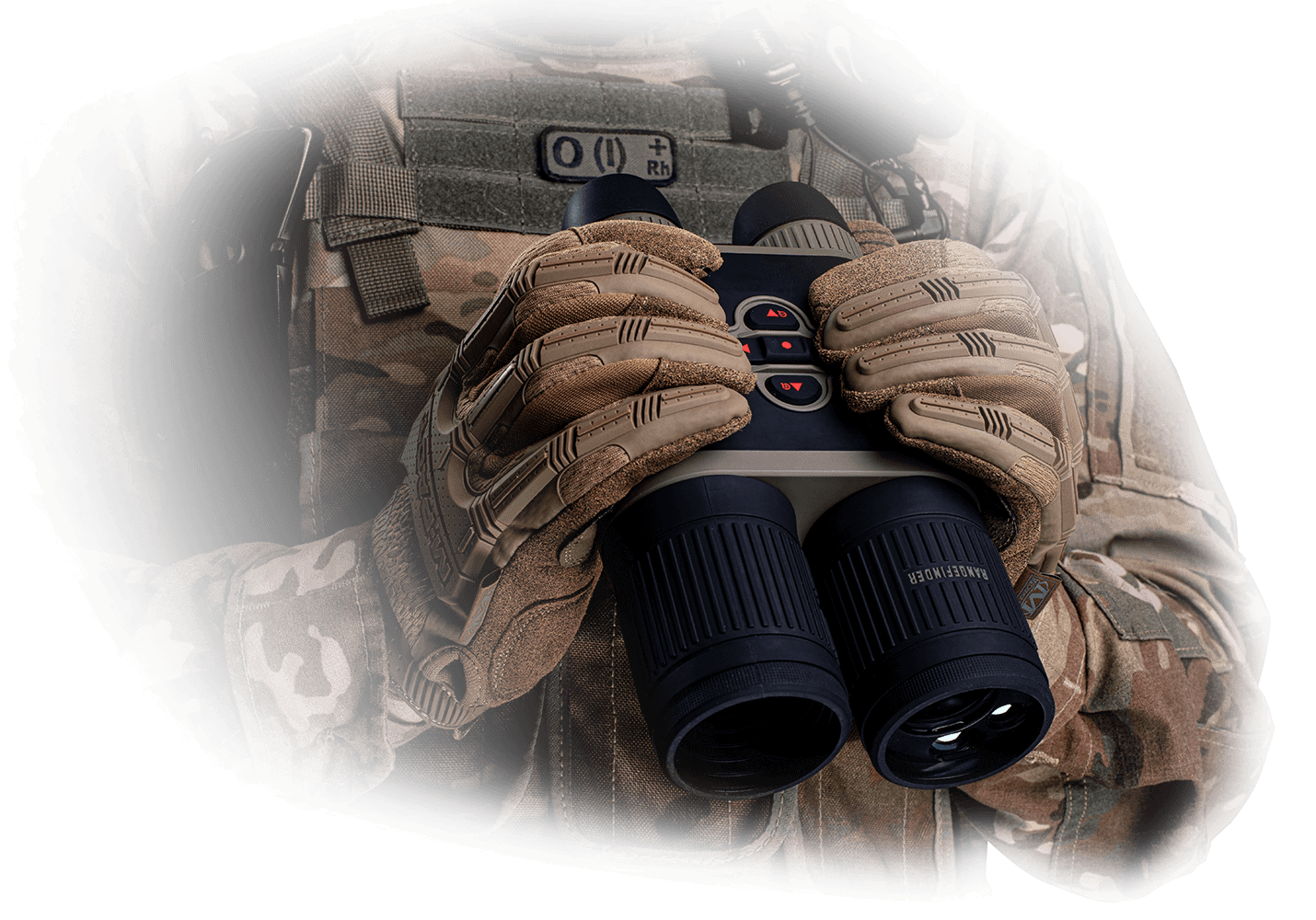 We integrated a Laser Rangefinder, so you now have the ultimate binocular package that has everything you want. Not only do you have the ability to see both day and night at your fingertips, but you now have the ability to range your target with absolute accuracy for dope hold over or know how far you need to trek to your next waypoint.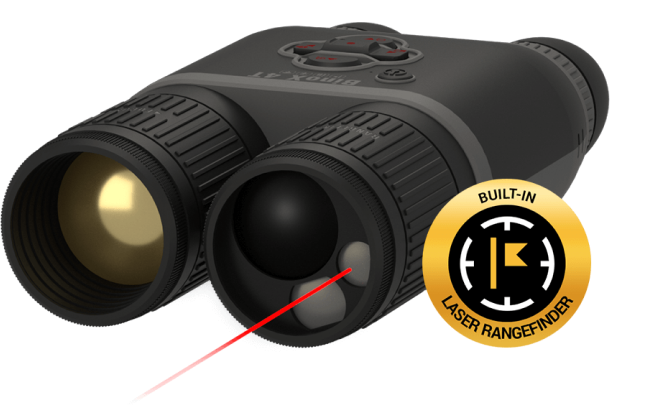 BALLISTIC INFORMATION EXCHANGE
BIX (Ballistic Information Exchange) tech allows ATNs SMART HD devices to communicate and exchange information. BIX is a culmination of years of research and development. This technology lets our systems talk to each other, exchanging valuable information; in order to facilitate a shooting solution eliminating hold over. Simple to pair, our BIX Tech is independent of any app so you don't need to rely on extra equipment. Or if you don't have an ATN SMART HD scope BIX provides the same capabilities with traditional glass scopes with the aid of our Laser Ballistics app.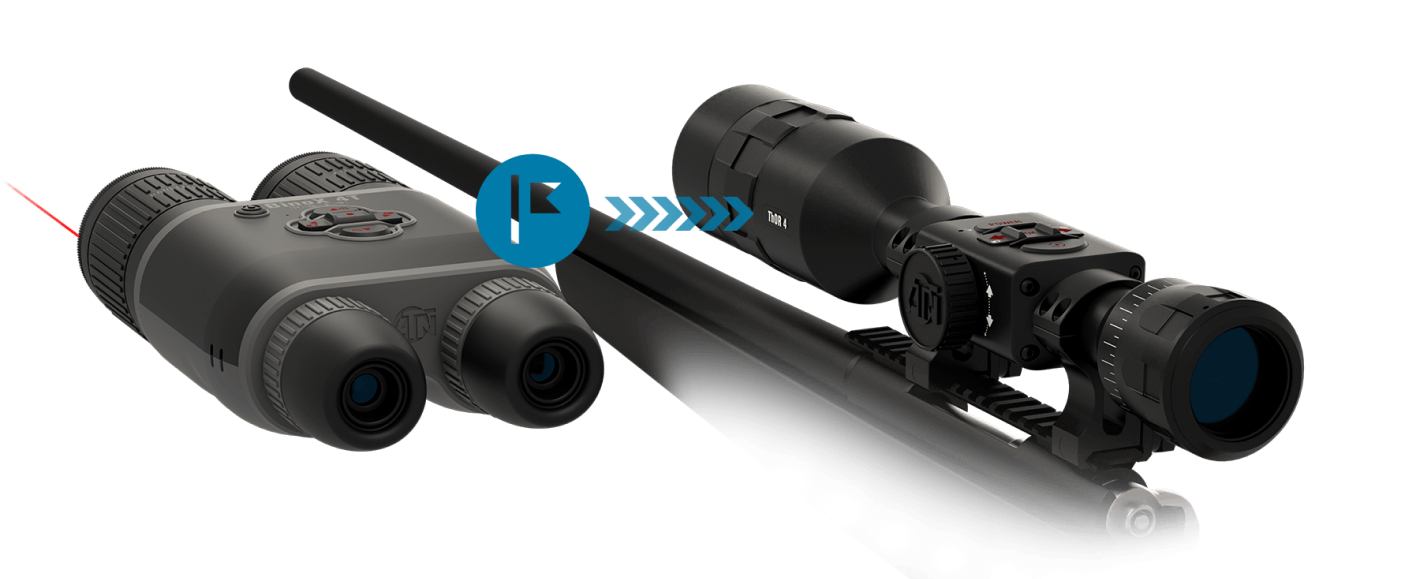 BATTLE MANAGEMENT SYSTEM
Our innovative BIX technology (BALLISTIC INFORMATION EXCHANGE) allows ATN SMART HD devices to maintain connection and exchange information. BIX is the culmination of extensive research and development. The technology allows our devices to interact with each other and exchange valuable information in order to shoot accurately while reducing the delay.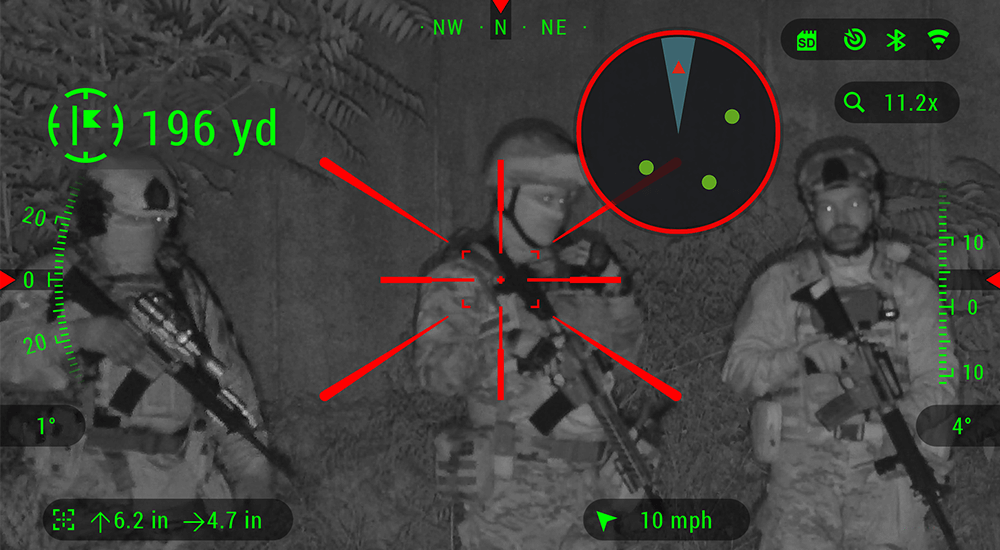 Our binoculars and monoculars have built-in laser rangefinders that accurately measure the distance to the target and with BIX technology can transmit data to our scopes.
Tactical Navigation App — an app that allows you to indicate targets on the map, after receiving data on the distance to the target from a device via Bluetooth.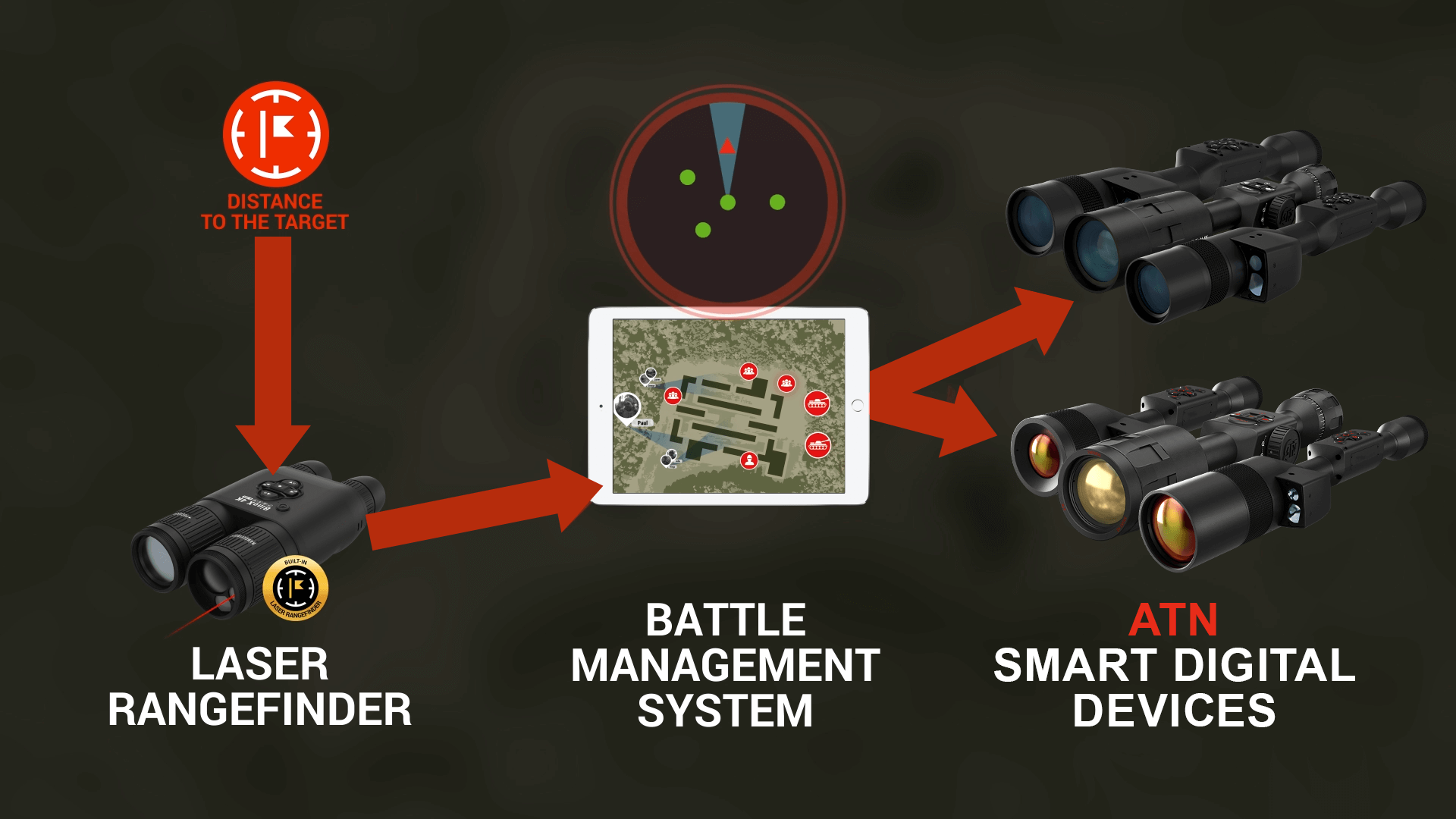 TACTICAL MAP APPLICATION
Tactical Navigation is an application for automatic labeling on the map using data transmitted via Bluetooth rangefinder measurements. If necessary, there is the possibility to add them manually.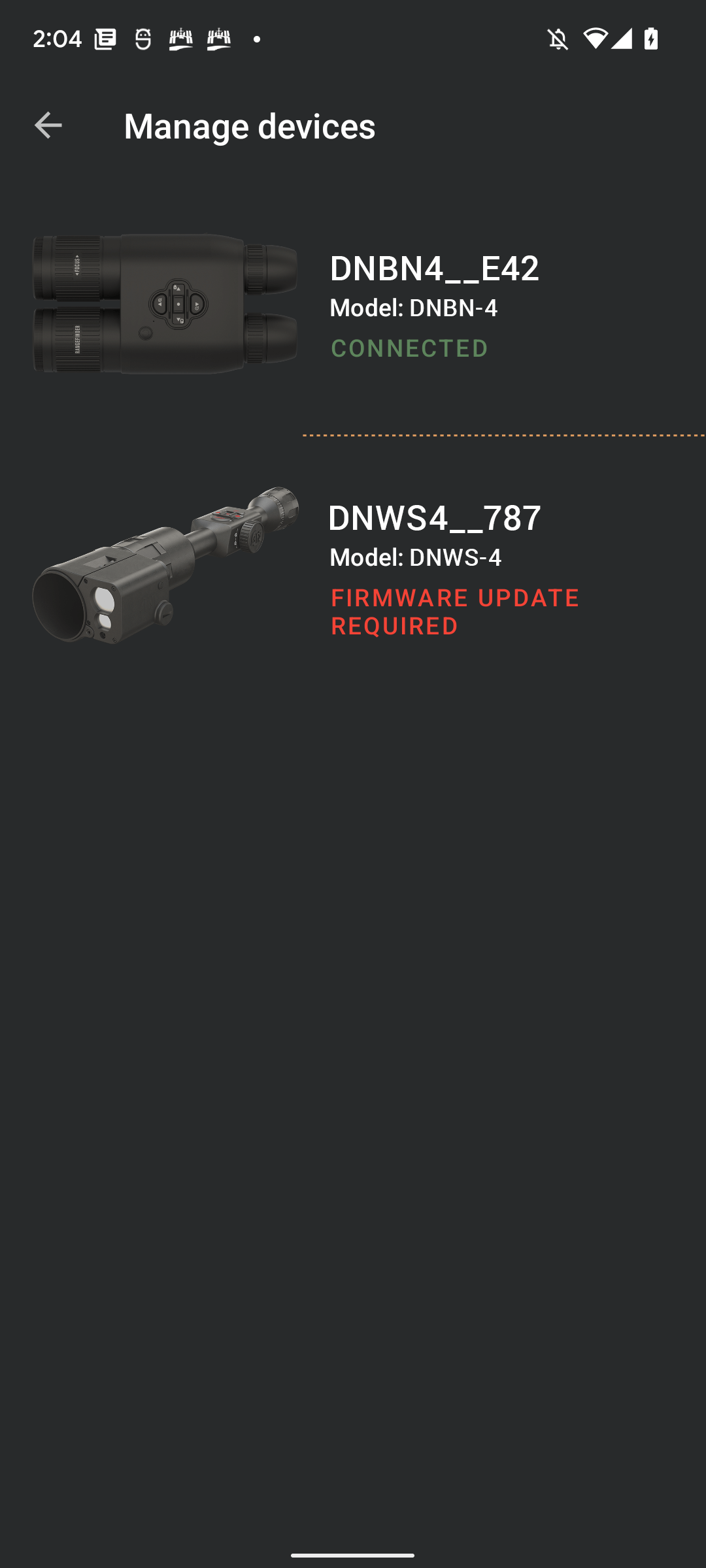 The application can be used in motorized infantry and tank units as a way to specify the target location. The coordinates can be copied and sent through any messenger or opened in Google Maps or similar programs.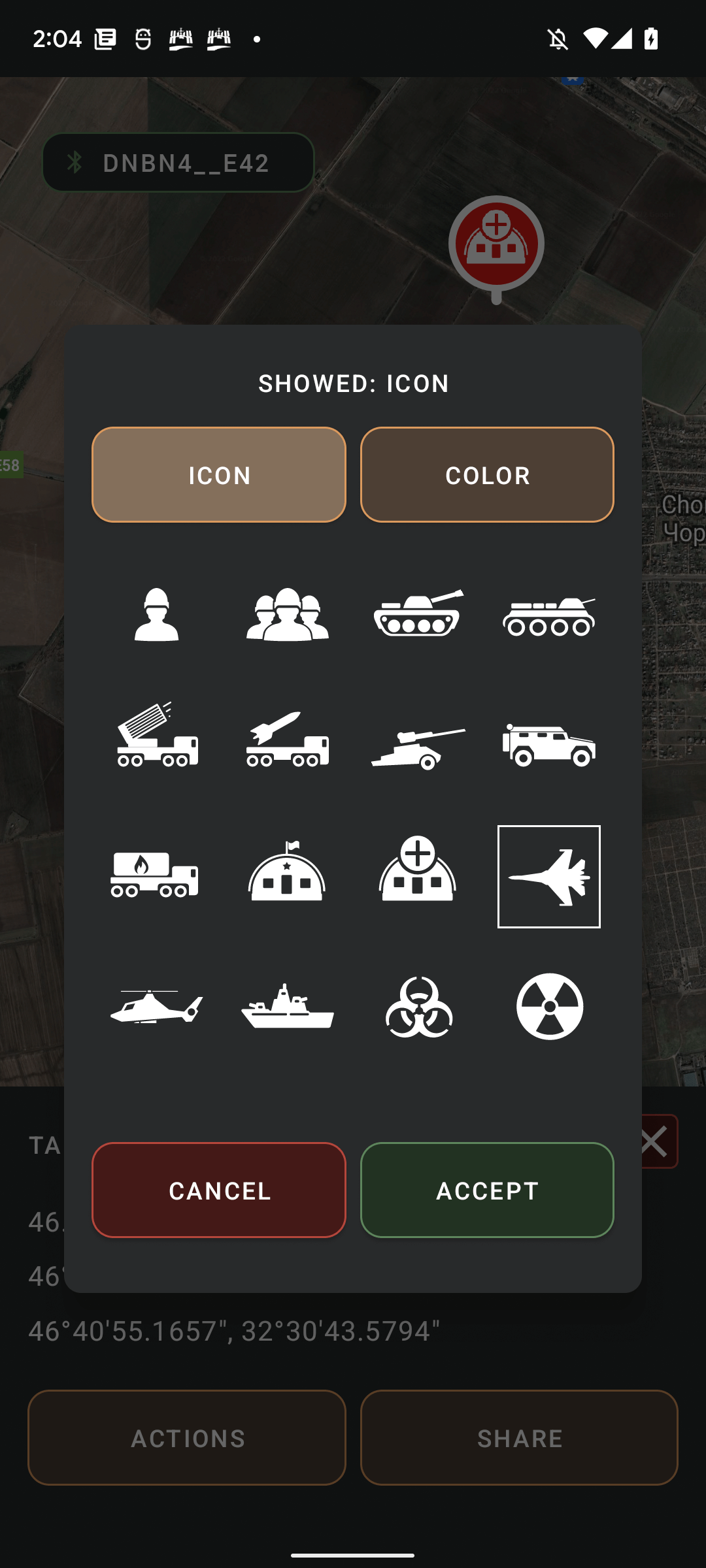 The application is designed for combat operations and can work without a SIM card in the phone as well as for lack of mobile internet. The application only needs a GPS receiver in the phone to work.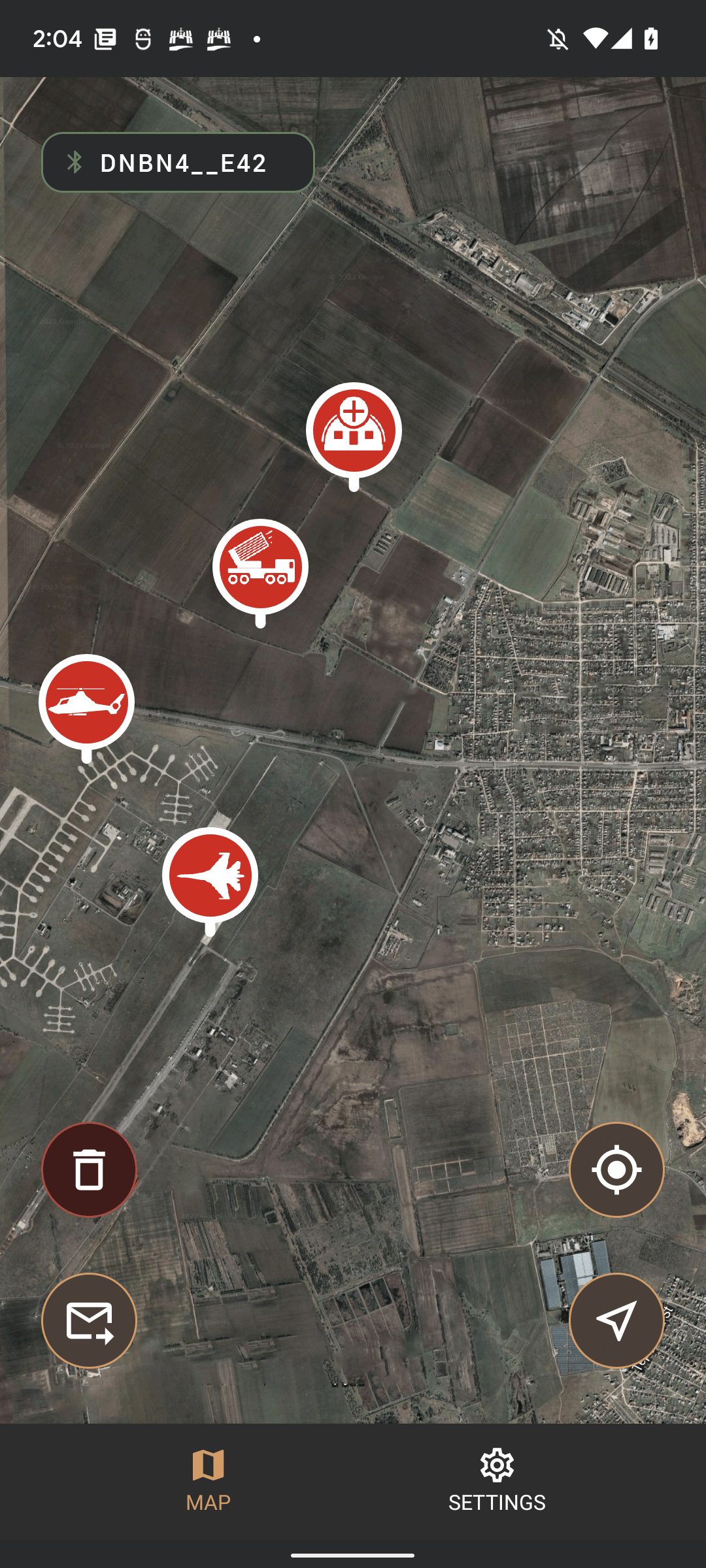 DUAL STREAM VIDEO
You asked and we listened. Obsidian IV Dual Core not only Streams Video at HD resolution but can simultaneously Record to the SD card inside.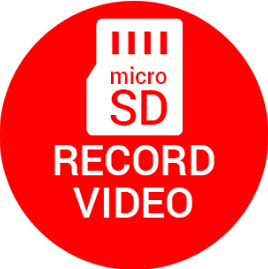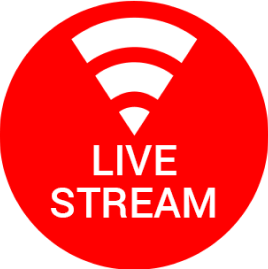 AT THE SAME TIME!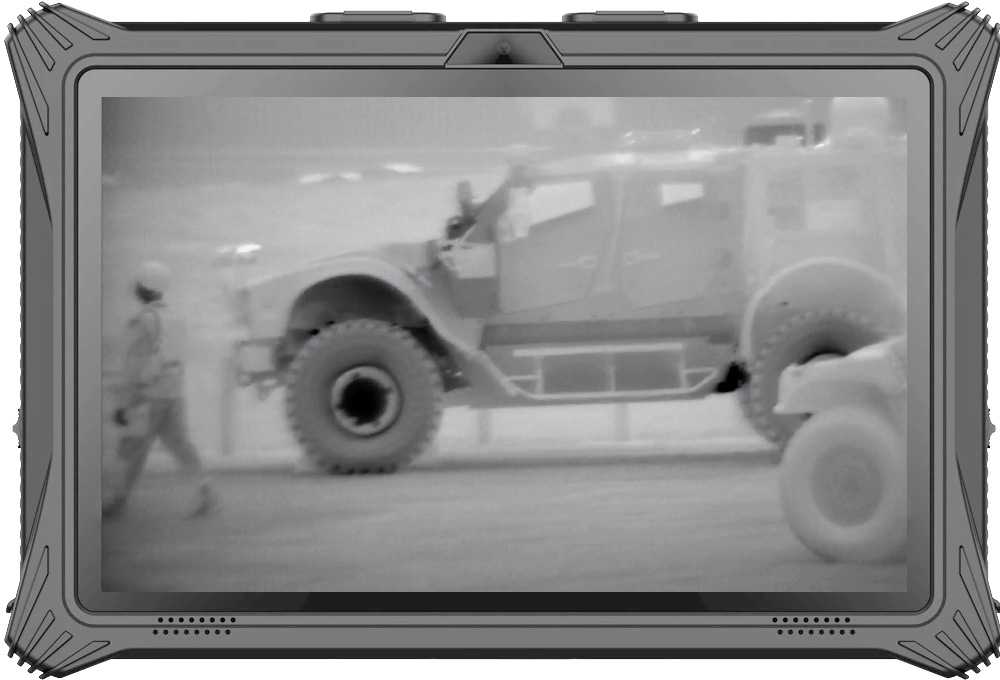 BUILT-IN IR ILLUMINATOR
For those times when you have friends or team members with Night Vision that need help looking at the right spot to see the target.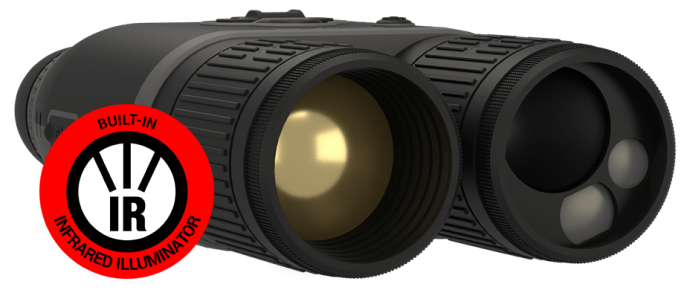 ULTRA LOW POWER CONSUMPTION
The new internal lithium Ion battery will keep you hunting late into the evening or those early morning hours, with an incredible 16+ hrs of run time. Saving you money on buying multiple reusable or one-time use batteries.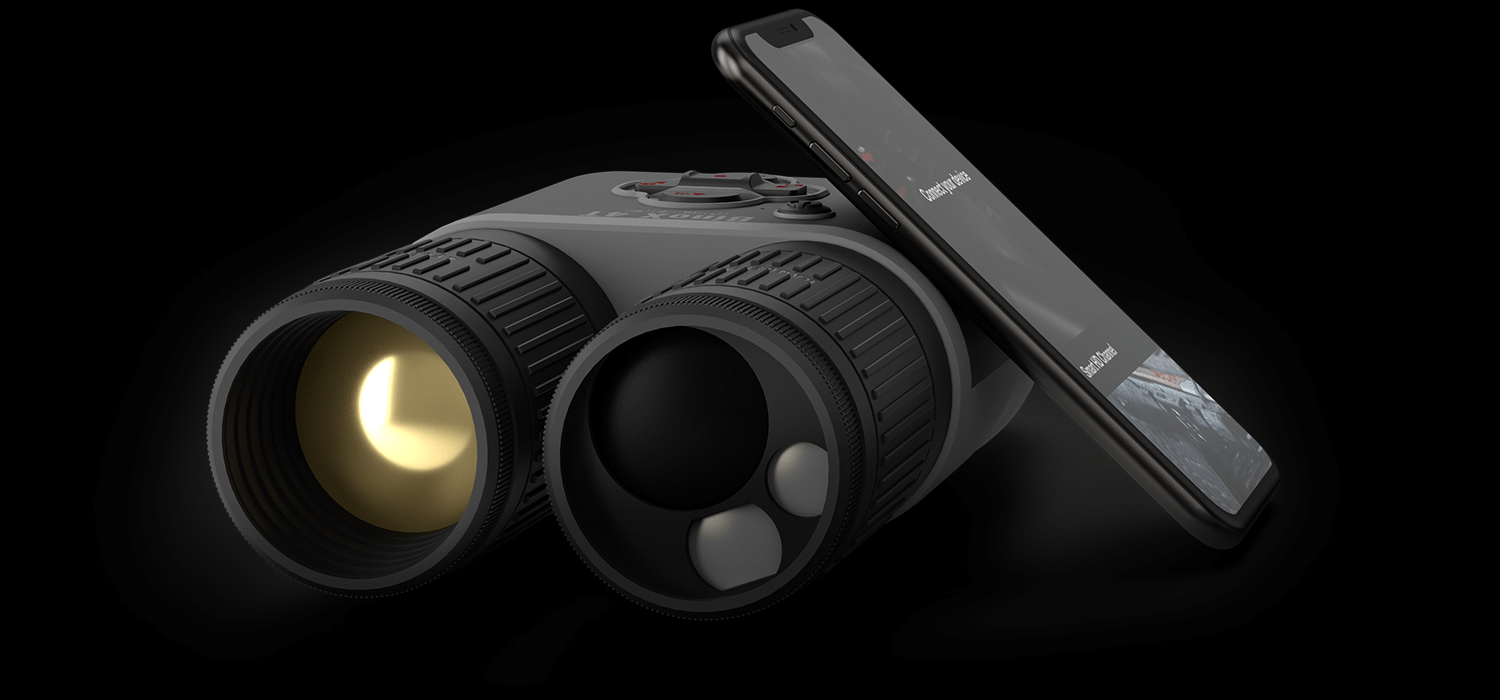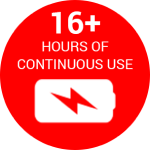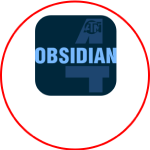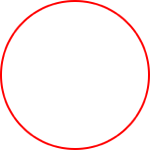 INTERPUPILLARY ADJUSTMENT
Just like your standard binoculars, ATN's binoculars are designed with a comfortable eye relief and interpupillary adjustment so anyone can use these digital binoculars with comfort.
TECHNICAL SPECIFICATIONS
>ATN TTBN-4 384 1.25-5x
ATN TTBN-4 384 2-8x
ATN TTBN-4 384 4.5-18x
ATN TTBN-4 640 1-10x
ATN TTBN-4 640 1.5-15x
ATN TTBN-4 640 2.5-25x
SKU
TIBNBX4381L
TIBNBX4382L
TIBNBX4384L
TIBNBX4641L
TIBNBX4642L
TIBNBX4643L
Sensor
384x288
640x480
Magnification
1.25-5x
2-8x
4.5-18x
1-10x
1.5-15x
2.5-25x
Field of view
16°x12.5°
12°x9.5°
6°x4.7°
32°x25°
24°x19°
12.5°x9.7°
Display Resolution
1280x720x2
Interpupillary adjustment range
60-70 mm
Eye relief
10-30 mm
Focus Range
10 ft - ∞
Laser Range Finder
Yes
Precision to
± 1 y/m
Range
5-1000 y/m
Video Record Resolution
1280x960 @ 60 fps
IP rating
Weather resistant
Charging
USB, type C
WiFi (Streaming, Gallery, & Controls)
iOS & Android
3D Magnetometer
Yes
Bluetooth
Yes
E-Barometer
Yes
3D Accelerometer
Yes
3D Gyroscope
Yes
Smart Range Finder
Yes
E-Compass
Yes
Smooth Zoom
Yes
Microphone
Yes
Micro SD Card
4 to 64 Gb
Battery life (Li-ion)
16+ hrs
Human Detection Range
750
960
1800
830
1050
1950
Human Recognition Range
335
480
720
350
530
800
Human Identification Range
205
300
430
225
330
475
Operating Temperature
-20°F to +120°F / -28°C to 48°C
Dimensions
9.4" x 5" x 2.6" / 240x128x67 mm
Weight
2.5 lb / 1.12 kg
Warranty
3 years
* This product is subject to one or more of the export control laws and regulations of the U.S. Government and it falls under the control jurisdiction of either the US Department of State or the US BIS-Department of Commerce. It is unlawful and strictly prohibited to export, or attempt to export or otherwise transfer or sell any hardware or technical data or furnish any service to any foreign person, whether abroad or in the United States, for which a license or written approval of the U.S. Government is required, without first obtaining the required license or written approval from the Department of the U.S. Government having jurisdiction. For further information please contact ATN.