ATN

DNWS-4
Smart Ultra HD Day & Night Vision Rifle Scope
Ultra HD Sensor
With Ultra HD Optics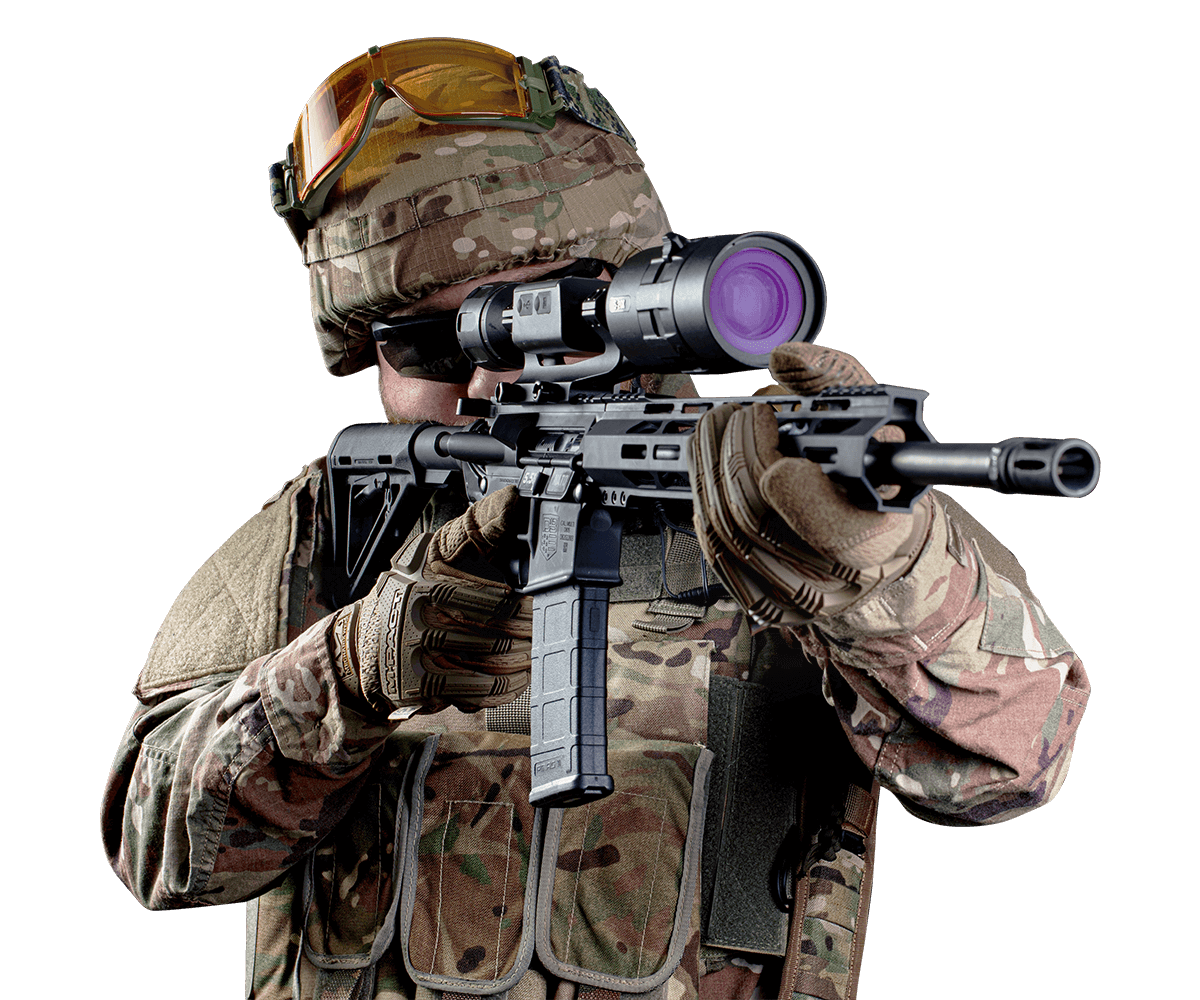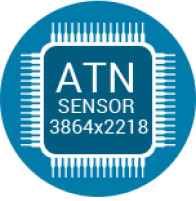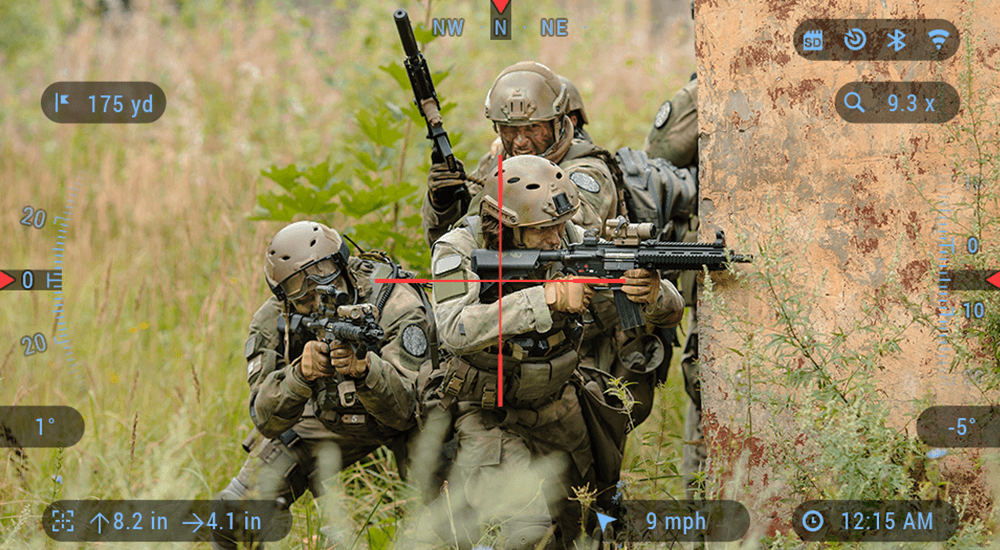 Night Vision Mode
Scope offers an Enhanced HD Night Vision Mode. Don't let the darkness slow you down.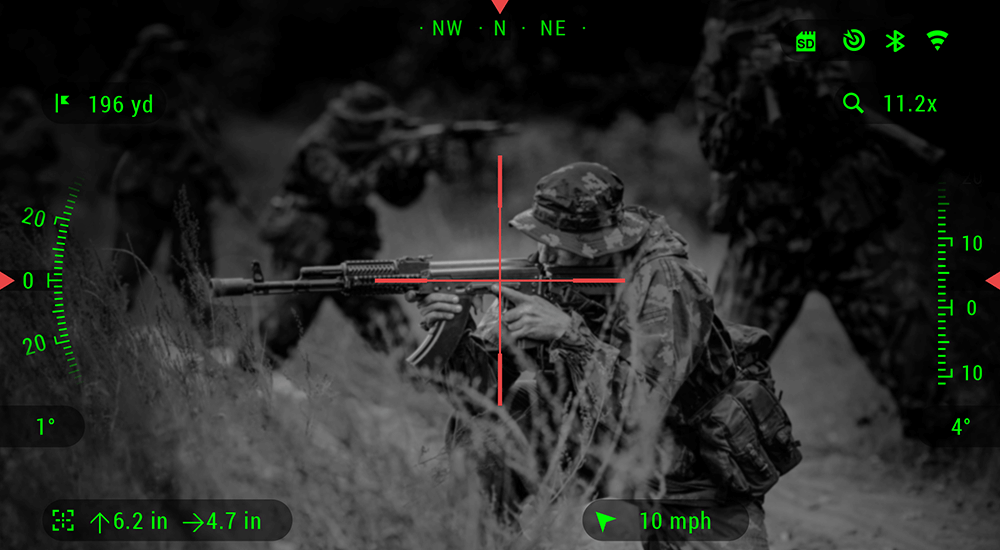 Video Record — in sharp 1080p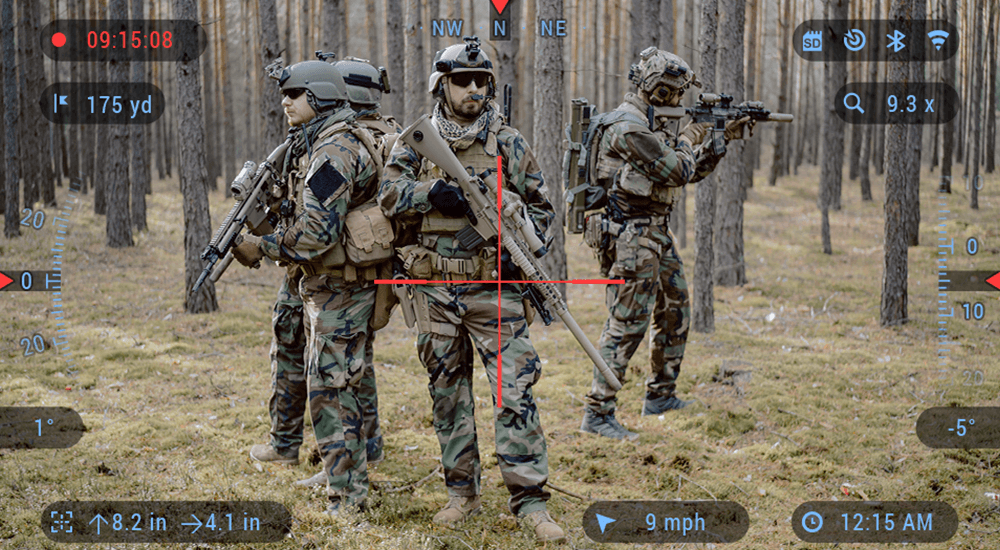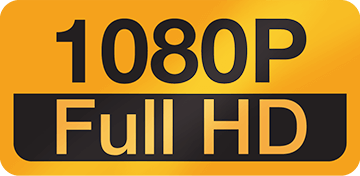 Record with a press of a button. Video files are stored on an internal micro SD card.
Easy to mount — Easy to use
New controls
Spin to Zoom Wheel - what could be more Natural. While the new Tactile Buttons let you feel every click for optimal control.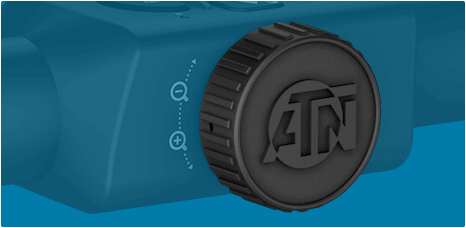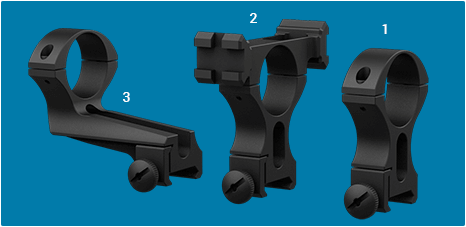 Included:
1. Standard ring
2. Ring with Picatinny rail
3. L-shape ring

Classic Ergonomics
21st Century Technology designed to make your Shooting Experience easy and familiar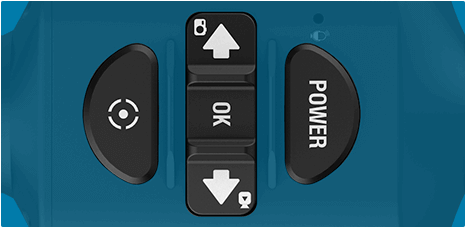 One Shot Zero
Sighting in your scope has never been easier with One Shot Zero. Take a shot adjust your reticle and you are good to go.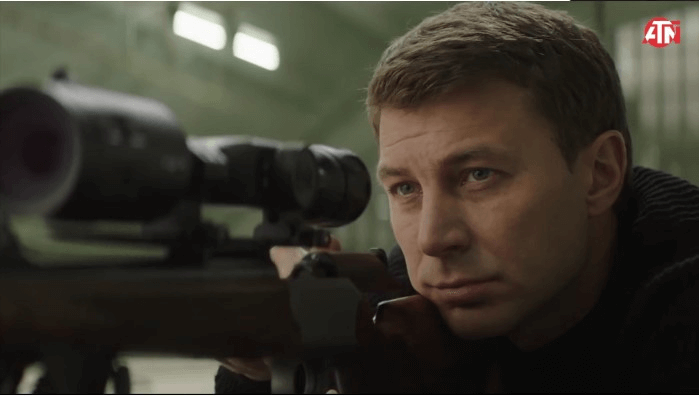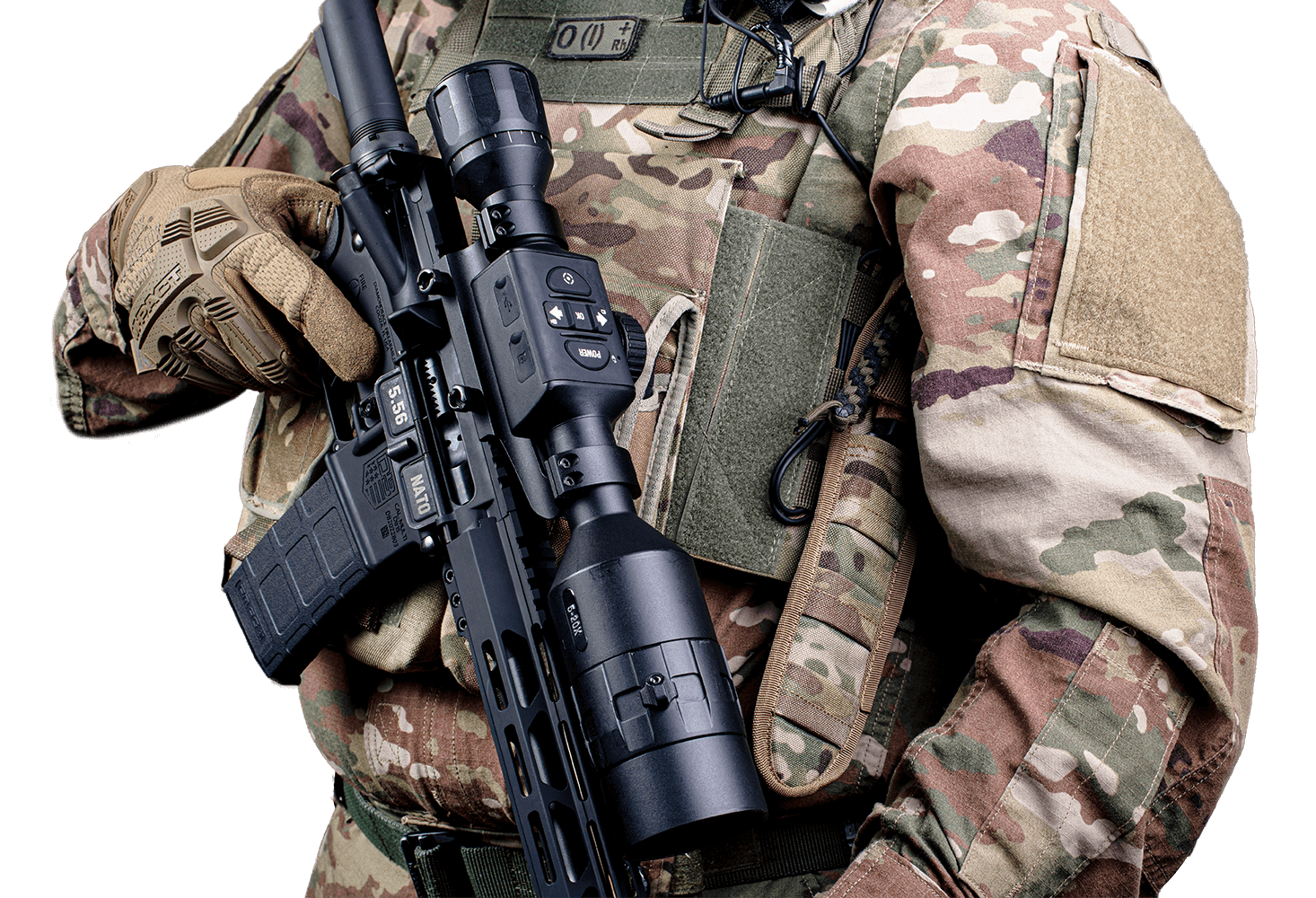 BATTLE MANAGEMENT SYSTEM
Our innovative BIX technology (BALLISTIC INFORMATION EXCHANGE) allows ATN SMART HD devices to maintain connection and exchange information. BIX is the culmination of extensive research and development. The technology allows our devices to interact with each other and exchange valuable information in order to shoot accurately while reducing the delay.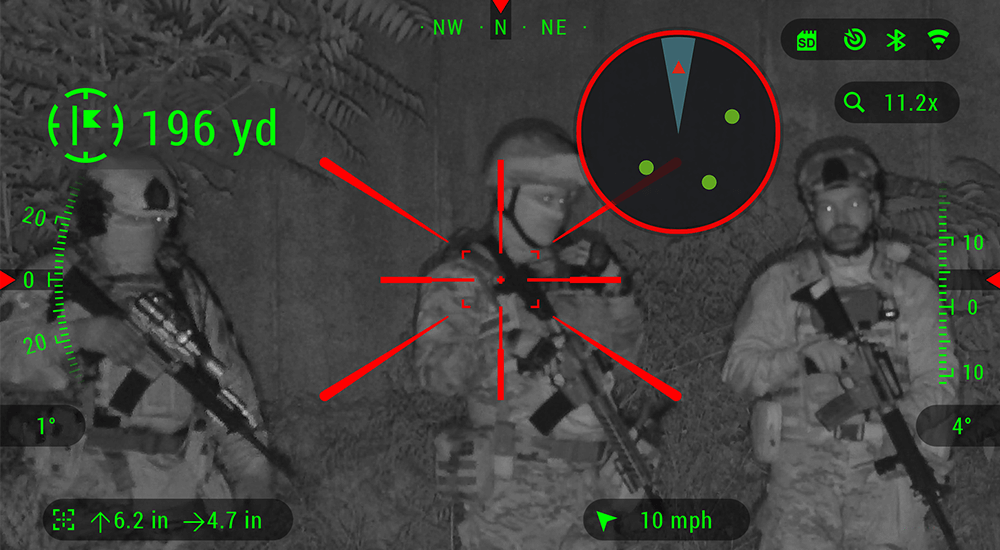 Our binoculars and monoculars have built-in laser rangefinders that accurately measure the distance to the target and with BIX technology can transmit data to our scopes.
Tactical Navigation App — an app that allows you to indicate targets on the map, after receiving data on the distance to the target from a device via Bluetooth.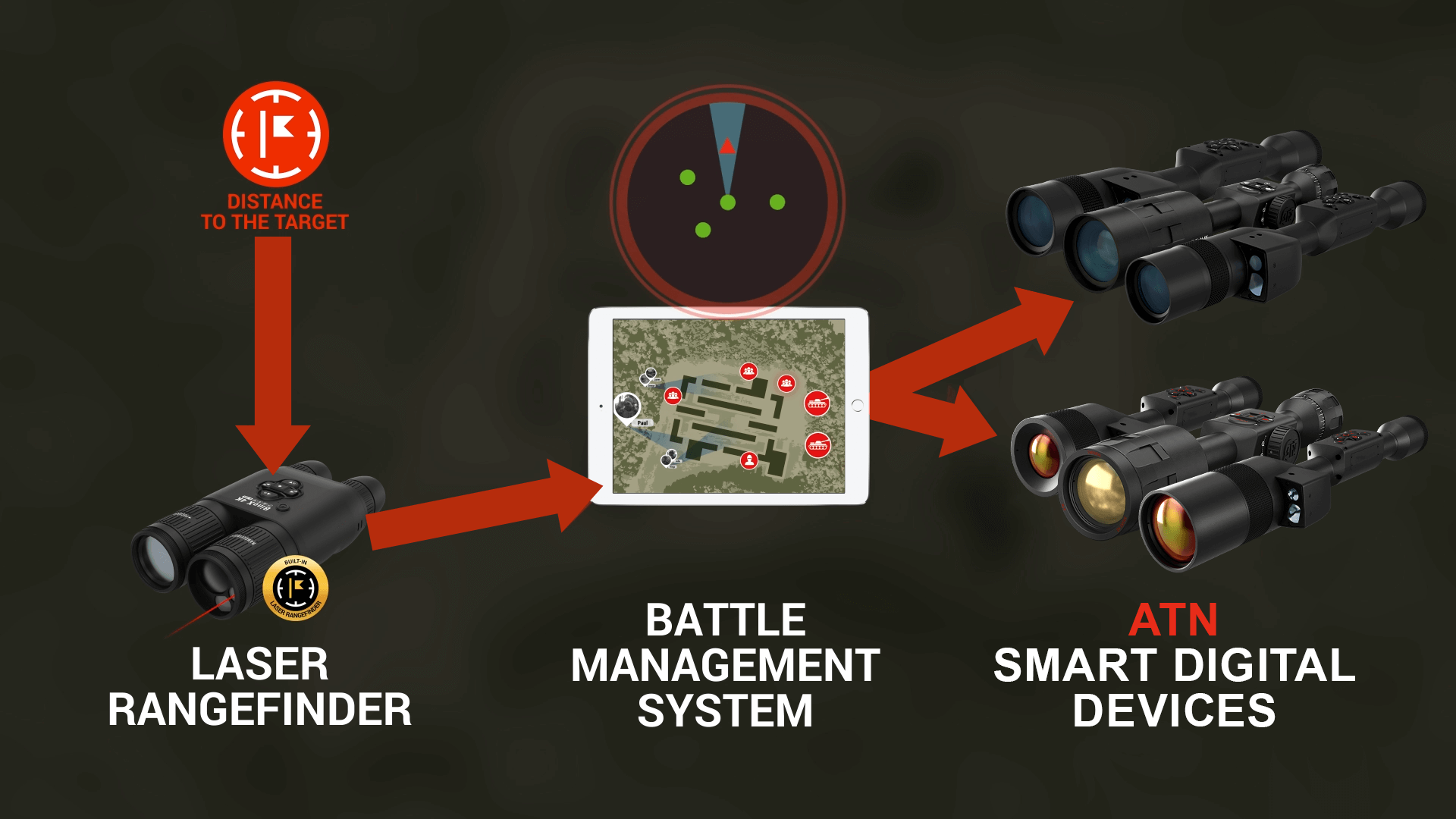 TACTICAL MAP APPLICATION
Tactical Navigation is an application for automatic labeling on the map using data transmitted via Bluetooth rangefinder measurements. If necessary, there is the possibility to add them manually.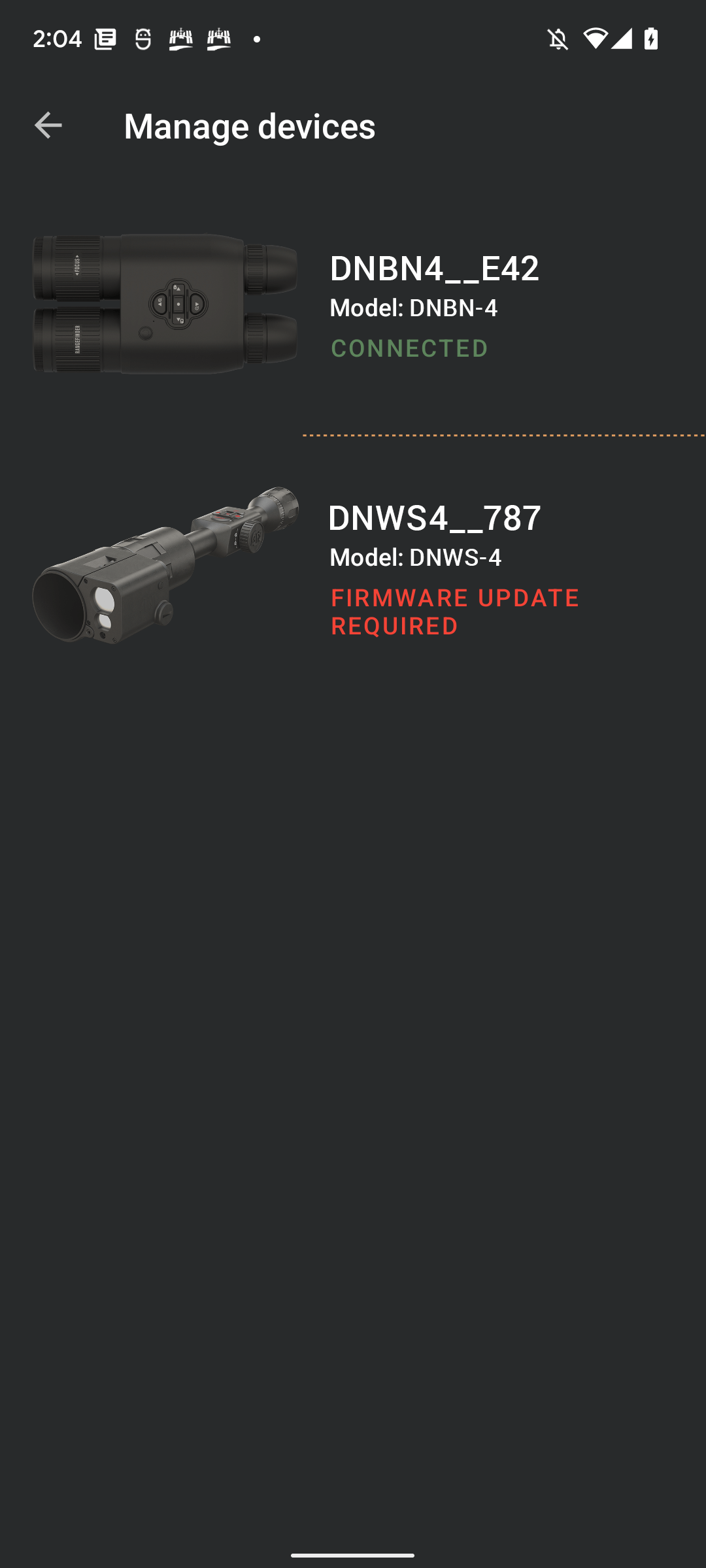 The application can be used in motorized infantry and tank units as a way to specify the target location. The coordinates can be copied and sent through any messenger or opened in Google Maps or similar programs.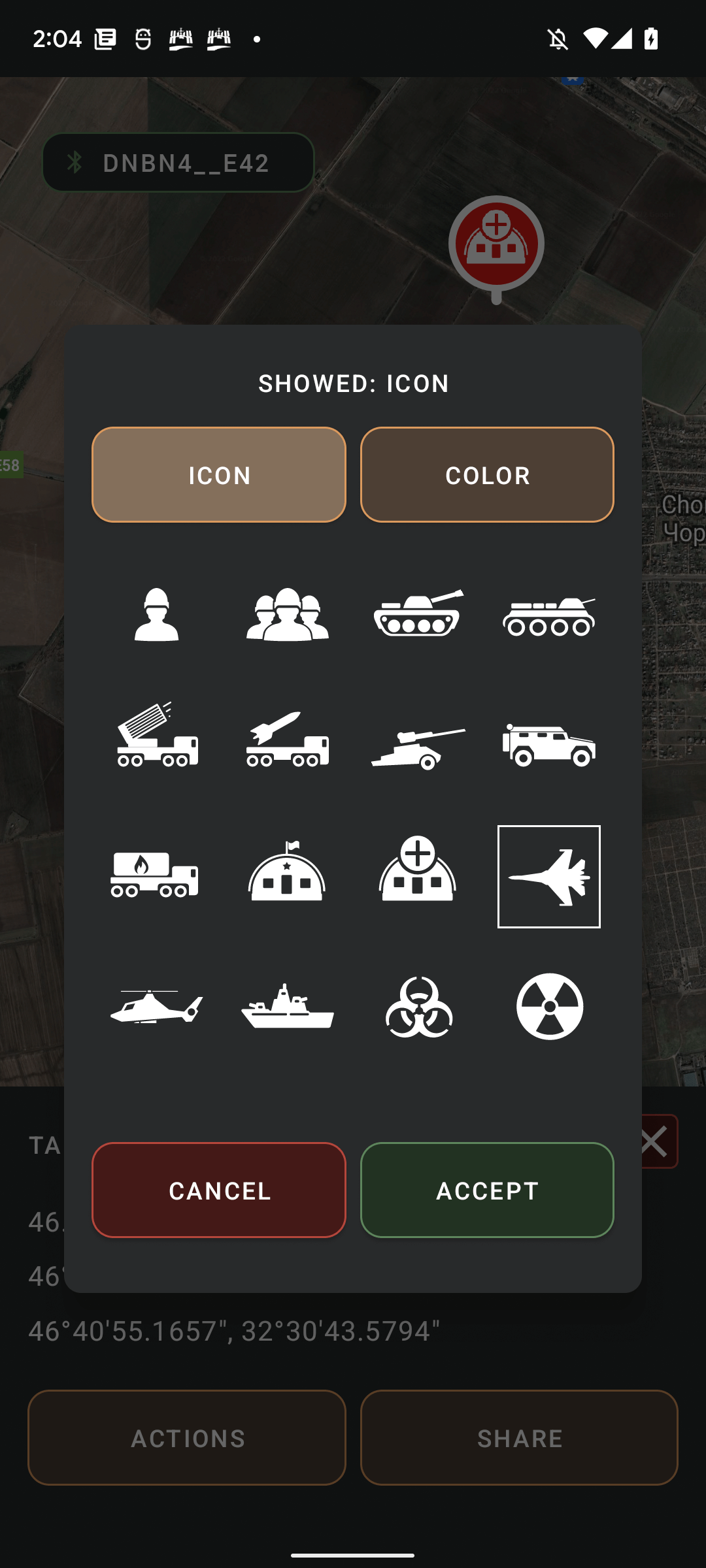 The application is designed for combat operations and can work without a SIM card in the phone as well as for lack of mobile internet. The application only needs a GPS receiver in the phone to work.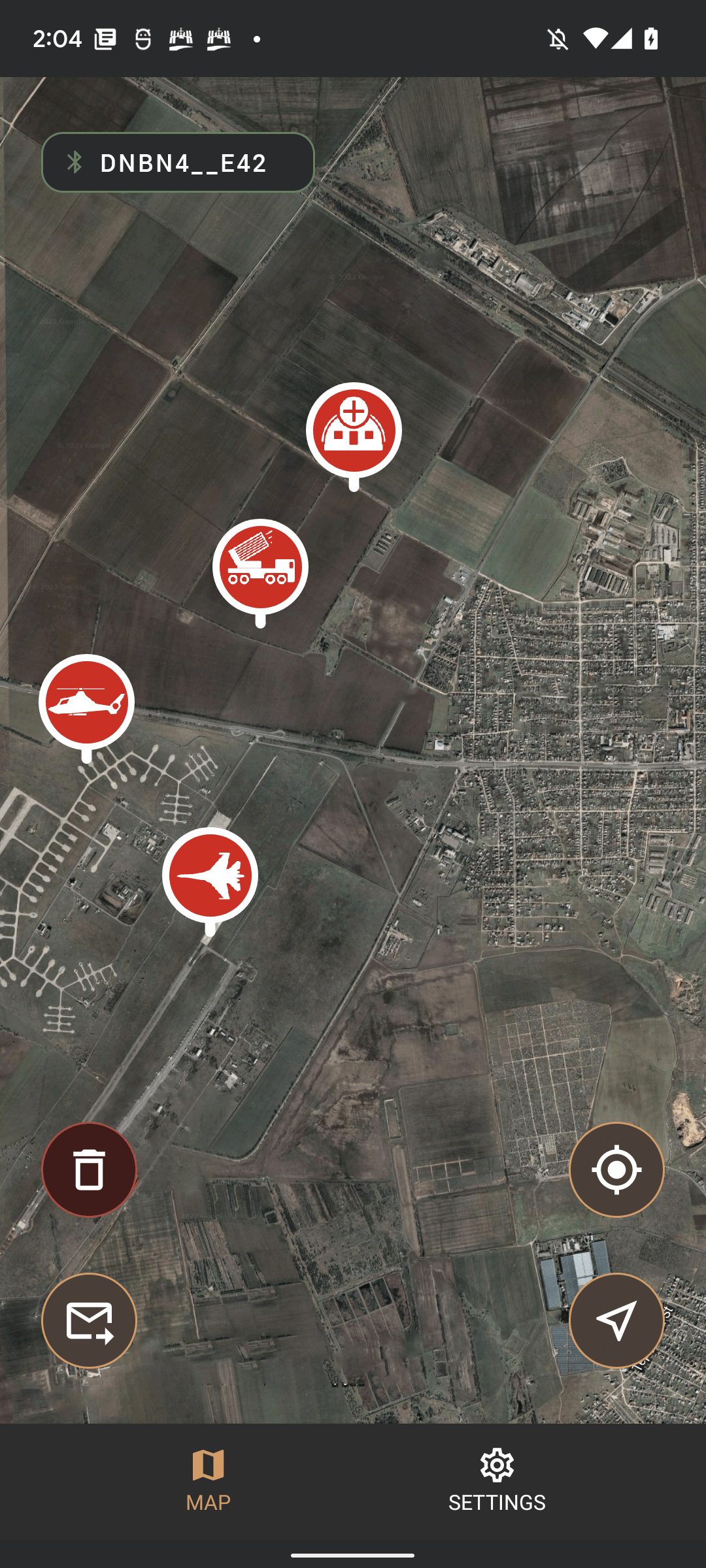 Ballistic Calculator
No need to waste time calculating all ballistic data on the battlefield - scope will make aiming adjustments by itself. Range, Wind, Angle to target, Temperature, Humidity, and more... will be counted in a second.

Profiles
Rifle Type 223 Remington
Drag Function G1
Ballistic Coefficient 0.371
Bullet Weight 55 gr
Initial Velocity 2850 fps
Zero Range 100 yd
Sight Height 2.5 in
Shooting Angle -2°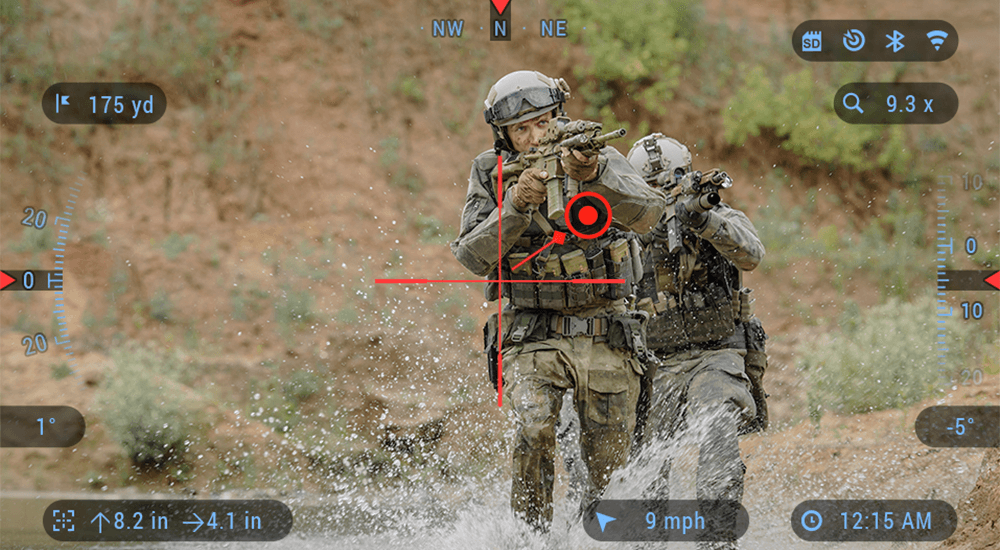 Environment
Relative Humidity 85%
Wind Speed 12 mph
Wind Direction -45°
Temperature 59°F
Barometric Pressure 29.92 hg
Altitude 1800 ft
Smart MIL DOT RETICLE
Now depending on your load, you can program the variance between hash marks in Mils into this Smart Mil Dot Reticle.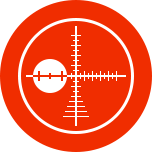 This reticle is Dynamic and adjusts with magnification throughout the entire zoom range. Learn more
Dual Stream Video
Obsidian 4 not only Streams Video at HD resolution
but can simultaneously Record to the SD card inside the scope.

At the same time!
Recoil activated video
Recoil Activated Video (RAV)
records a short video of your shot directly to the SD card.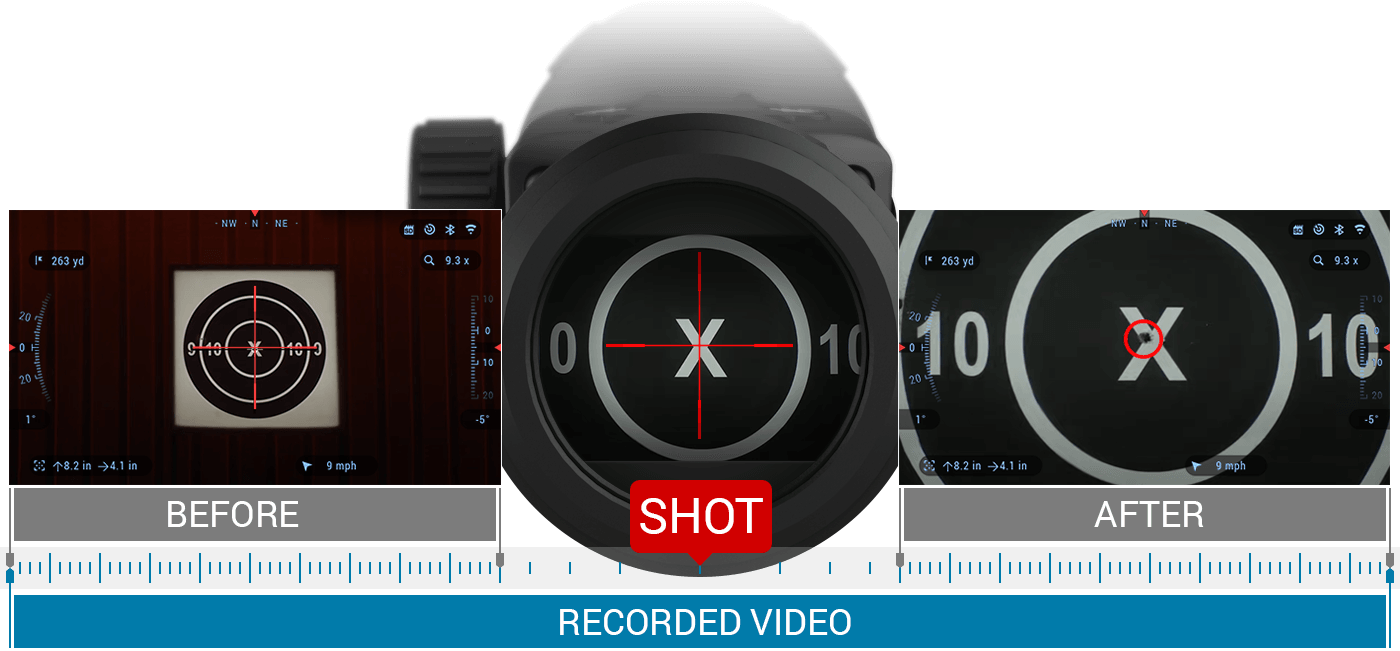 Ultra low power consumption
Our new Dual Core Processor not only runs fast but runs cool.
1st ever digital scope with over 18hrs of continuous battery power.
18+
Hours of Continuous Use


Recoil
Resistant
Designed to withstand the pressures of High Caliber weapons. The X-Sight 4K Pro Scope is built out of Hardened Aluminium Alloy with Impact Resistant Electronics.
TECHNICAL SPECIFICATIONS
ATN DNWS-4 3-14x
ATN DNWS-4 5-20x
SKU
DGWSXS3144KP
DGWSXS5204KP
Magnification
3-14x
5-20x
Field of view at 1000 yds
460 ft (9°)
240 ft (5°)
Sensor
ATN 4K M265 Sensor, 3864 (H) x 2218 (V)
Core
ATN Obsidian IV Dual Core
System Resolution
600 lp/mm
Micro Display
1280x720 HD Display
Eye relief
90 mm
Video Record Resolution
1080p @ 30/60/120** fps
Ballistic Calculator
Yes
WiFi (Streaming, Gallery, & Controls)
iOS & Android
Bluetooth
Yes
3D Gyroscope
Yes
3D Accelerometer
Yes
E-Barometer
Yes
Smart Range Finder
Yes
RAV (Recoil Activated Video)
Yes
Electronic Compass
Yes
Smooth Zoom
Yes
Night Vision Mode
Yes
Reticles
Multiple Patterns & Color Options
Microphone
Yes
Micro SD card
4 to 64 Gb
Micro USB, type C
Yes
Mount
30 mm Standard Rings (included)
IR Illuminator
Included
Battery life (Li-ion)
18 + hrs
Battery type
Internal Lithium Ion Battery
Waterproof rating / IP rating
Weather resistant
Smart Mil Dot Value Range
1.0-10.0
Operating Temperature
-20°F to +120°F / -28°C to 48°C
Dimensions (body only)
13.8"x3"x3"/ 350x76x76 mm
14.9"x3"x3"/ 379x76x76 mm
Weight
2.1 lb / 0.94 kg
2.2 lb / 1.01 kg
Warranty
2 years
* This product is subject to one or more of the export control laws and regulations of the U.S. Government and it falls under the control jurisdiction of either the US Department of State or the US BIS-Department of Commerce. It is unlawful and strictly prohibited to export, or attempt to export or otherwise transfer or sell any hardware or technical data or furnish any service to any foreign person, whether abroad or in the United States, for which a license or written approval of the U.S. Government is required, without first obtaining the required license or written approval from the Department of the U.S. Government having jurisdiction. For further information please contact ATN.

** 120 fps Day mode only w/loss of widgets